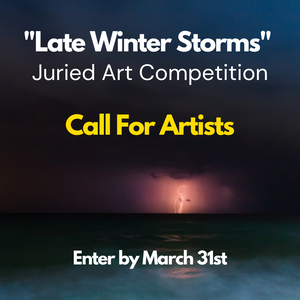 "Late Winter Storms" - Juried Online Art Competition by Art Emerge Gallery
Entry Deadline: March 31, 2023 (Closed)
Juried Competition (March) and Online Exhibition (Late April/Early May) 
West Hollywood, CA 
We're excited to announce the winners of our juried art competition, "Late Winter Storms." Our juror and curator, Cynthia Penna, selected 13 artists as winning artists to be included in our upcoming online exhibition.
Our Winners:
Matthew Pipes
Lana Stallings
Steve Stuck
Ivonne waisman
Analia Amaya
Sarah Heitmeyer
Alan Kinnard
Jennaya Dunlap
Heidi Brueckner
Bart Ross
Terry Murray
Dodd Holsapple
Joao Pedro Oliveira
Congratulations to our winners and thank you to all that entered our competition!
About the Curator:
Cynthia Penna is an Italian art curator who has had a significant impact on the art world. She has worked for over 20 years in various art institutions, museums, and galleries, curating exhibitions, events, and projects that have showcased the works of both emerging and established artists. Her work has been recognized internationally, and she is considered a leading figure in the contemporary art scene in Italy, though she also curates many shows in the US.
Penna has a wealth of experience in curating art exhibitions and events, and she has a deep understanding of contemporary art trends and market analysis. She has been a consultant to various art institutions and organizations, including the Herculaneum Museum, the Pio Monte della Misericordia, Art 1307, and many others.  This experience has expanded her expertise on art history, trends, and market analysis. Her work has helped to shape the Italian contemporary art scene and has influenced artists, collectors, and art enthusiasts around the world. 
Penna has curated a wide range of exhibitions, including solo shows, group exhibitions, and thematic shows. Recent exhibitions include Inspirational: The Influence of Place, Materia Prima, Landscapes of the Mind, and The Art of Collecting, which examined the role of collectors in the art world.
She has worked with artists from around the world including Laddie John Dill, Peter Lodato, Andy Moses, Todd Williamson, Ned Evans, Max Copeta, David Jang, and Ed Moses
She continues to work in the art world, curating exhibitions and events that push the boundaries of contemporary art and inspire artists and art lovers alike which is why ArtEmerge is so grateful to have her as our curator for our group exhibition Fragility! 
Art Emerge 
---
Art Emerge Gallery announces an art call for the gallery's inaugural Online Juried Art Competition for inclusion in, "Late Winter Storms." The gallery invites all 2D and 3D artists (including photography and digital arts) from around the world to make online submissions into the competition for possible inclusion in the gallery's April 2023 online group art exhibition.
The exhibition, "Late Winter Storms," invites artists to demonstrate through their work how climate change is affecting the world. "How do we as artists address climate change? Is it the title, the colors, the thoughts behind the work, or is it all of the above?" 

Art reflects the world, which is experiencing major issues at this time from earthquakes to rising sea levels. The population of the world is growing as are new diseases and issues of famine and drought. This year, late winter storms have produced dramatic temperature swings that are causing havoc and breaking the norms.

The gallery invites artists, regardless of where they reside, to apply to this competition by submitting their best representational or abstract art and photography (maximum of 3 images or files). 

Winning artists will be selected by our juror to exhibit their works in the April exhibition and receive an official "Curator's Choice Award" from Art Emerge Gallery. The Juror is an award-winning internationally acclaimed curator that has curated over 200 exhibitions throughout the United States and Europe.
The juror will choose one artist that will receive a cash prize of $500 and a special award. Winners receive extensive worldwide publicity and promotion. Their works and the exhibition will be published for sale and promoted on ArtEmerge's website, through various global press outlets, as well as paid social media advertising to maximize exposure. The "Late Winter Storms" exhibition will commence in late April with the selected artists. 
The deadline to apply to this art competition is March 31st, 2023. Artists must upload their work and pay the $30 entry fee by the deadline to be entered into the competition. Winners announced in early April. International artists are welcome! Press and distribution are global.